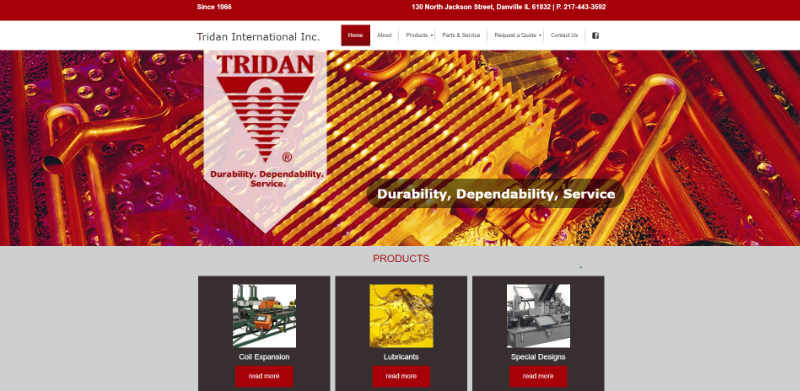 Tridan International provides excellent machinery solutions mostly in the HVAC industry. With over 50 years in the industry, Tridan is one of the industry leaders when it comes to fin production and tube expansion machinery. If you are in the business of building HVAC systems then Tridan machinery is what you should use to build the components.
In addition to industry leading machines, Tridan provides the best customer service and part and service in the industry as well. When you purchase a Tridan machine you know it will last decades.
Web Services For Tridan International
Tridan has been one of our clients for over six years now.  When Tridan first came to us their original website was a basic HTML website that was not mobile friendly. What that means the web pages displayed one way and never adapted to the size screen that was viewing it. In addition, their SEO on the pages was non-existent. Meaning they hade no titles or meta description on any page.
VR Metro rebuilt their website with more modern features. First, we determined the site would be built in WordPress. Why this decision is made was because WordPress is easier to maintain for the client and WordPress software is always being improved and updated. We worked with the client to determine the look and feel they wanted. The top bar of the site makes it quick and easy to see the contact information. Navigation bar changes when mobile is being used.
The whole layout of the site now adapts for mobile as well as other screen sizes. The banner area rotates their main marketing points. Also, the one everyone loves is the product slider. To add motion to the site a product slider was added to display a number of products without taking up too much real estate. Finally, some text is added to help with search engines and introduction to the reader. Once the site was built we then added SEO information to all the pages and content.
As you can see we really helped them step into a more modern look and feel for their site. If you are interested in a new website or a rebuild give us a call today at 734-729-7082 or request a quote today!