VR Metro LLC is an Internet marketing, SEO and web development company located in Westland Michigan. We cover all aspects of putting together a successful Internet business strategy. We have been in business since 1997 and our personnel have many more years experience in programming, computer service, marketing and business management. VR Metro manages over 370 domains (i.e. www.somename.com) and has designed hundreds of websites including:
Simple websites giving a smart representation of your business.
Intermediate or medium sites that typically have dozens of pages and features.
e-commerce solutions from single product offering web sites to Internet exclusive business web sites with thousands items online.
Local Business Search and Marketing
In the early 1990's Randy Johnston recognized the value of consumers being able to find local businesses locally via digital media.  Operating a local chain of video stores he first researched the possibility of installing a "soft touch" info center in the stores. This would be a kiosk where local businesses could advertise. Customers in the store would use the kiosk to browse for information on products and services, and even print coupons.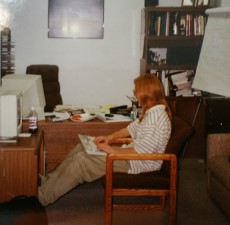 At the consumers electronics show in Las Vegas in 1995 there was demo where a group of people played a game of virtual shopping; stopping at several shops, chatting with other shoppers, picking up items and proceeding to the next shop. How cool! That is where the idea for the soft touch info center met the Internet. A Virtual Reality Metro Mall. First things first though; we had to figure out how to build it.
We started by setting up a couple of types of web servers; one independent, then a Microsoft web server.  We then hooked up with some pretty amazing young programmers and moved to a Unix based system. Our first office was in the back of Universal Sight & Video Westland, where we soon realized that the technology to build a Virtual Mall the way it was envisioned wasn't there yet.
VR Metro Malls sought to provide an online mall featuring a collection of local businesses in the Southeast Michigan area.
MetroMalls.com is an Internet portal that focuses on promoting local businesses within Metro Areas. The local area malls help promote VR Metro clients and their websites. Although the mall is geographically centered, the Company develops, hosts and promotes websites nationwide.
Currently in Detroit.MetroMalls.com you will find a wide variety of featured businesses that are located within the Detroit area. Many of these companies have been with us from the start and we continue to add new businesses on a regular basis. We work with both large and small businesses and each is treated with the same level of care and attention to detail.
We Design, Build, Host and Promote Websites
From that point on we concentrated on web development, website hosting and subsequently search engine promotion. Unlike most of our competitors, each site we design is unique, regardless of size. In addition, periodic changes and web promotion are key elements of the web services we provide. Because of this, we have better than 90% client retention.
We help to make your web site work for you, instead of you working for it. Furthermore we will help you to understand the technology used in the development and marketing of your site. But most of all, we will take an active role in helping to make your site successful. These basic principals have been the foundation of our business and will remain so.
VR Metro has U.S. clients from coast to coast as well as a few internationally owned companies. In addition to Michigan based customers, current clients in Arkansas, Indiana, Virginia, California, Illinois and Florida benefit from VR Metro Internet marketing promo services. VR Metro can provide helpful SEO and marketing services to your company no matter what part of the country you are in. Take a look at what some of our clients have said about our service on our testimonials page.
If you need expert Internet consulting or have a website project to implement,
please contact us or submit a request for quote.