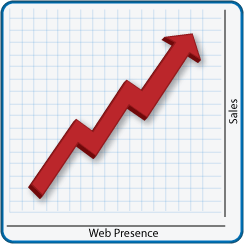 Once you're ready to launch your company website, who will know that it exists? How will you get visitors and customers to your site?
Word of mouth? Direct mail to your current customers? Your website can be the best way to stay in touch with your clients or to give a positive first impressions to new visitors. Also design and presentation are important for this of course, but most visitors still find you by typing words into search engines.
VR Metro Web Internet marketing consultants can help you there too. Another thing, we offer many different solutions that will drive new traffic and customers to your site. Our website optimization and promotional specialists are experts at search engine optimization (SEO), search engine marketing (SEM) and search engine positioning (SEP).
Search engines have become smarter and so have we. There are many other factors as well including; site popularity, domain naming, relevant links, content development and more. Add to this Social Networking through social websites like Facebook & Twitter and it is easy to understand how it can get so complicated. Heck, even the searches within these sites are growing at a phenomenal rate!
Successful Marketing And What We Do
We offer web promotion programs designed to help drive search engine traffic through top ranking natural (organic) placements. Programs to help you stay in touch with your visitors or even demographically targeted text and banner advertising. Whether your site is new or older, hosted by different provider or developed in a different programming environment, we can help. The first thing we do is do an analysis and give you some direct no "fluff" opinion of where you are at and discuss what we can do to move you forward.
Contact us today or give us a call at 734.729.7082 or Toll Free at 800.473.5530.
---
VR Metro LLC works with large or small businesses, customizing programs that will produce results within manageable budgets.
Finally, we do not charge for initial consultation. In fact we love talking about this stuff and you'll get a serious dose of it when you call. If you would like Free Search Engine Position Marketing Report that will get us started please click here.